Get Ready for Inspiration!
We're committed to serving you even when you're on the go!
Need help getting the creative juices flowing? Enter our online Customer Service Center and browse the list of products and services we offer. If inspiration has already struck, you can request an estimate or place your order. To learn more about us, browse through our Company Information section. To find helpful information, search our Resources & Support area on our full site. If there's anything we can do to help, please let us know. Enjoy your visit, we hope you get inspired!
5171 Blackbeak Drive
Saginaw, MI 48604

Monday – Friday
8:30 am to 5:00 pm
4 Reasons Print Still Fits in Your Marketing Mix
Posted on 11/18/2019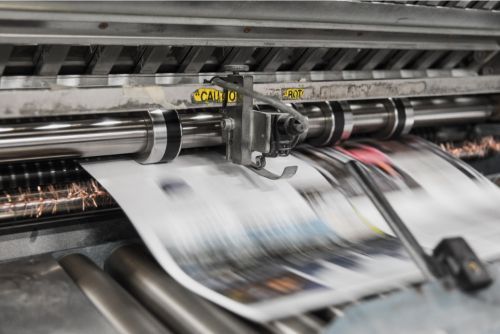 Print (marketing) isn't dead. 
You may have heard otherwise, but all signs point to a resurgence of the tried-and-true tactic. The next time you consider going all in on digital marketing, remember these five reasons to make room for print in your marketing mix.
Print pieces have just the right touch. 
Humans are tactile by nature. So a physical marketing piece—a touchpoint customers can actually touch—stimulates the senses.

Content that can be held and handled may result in psychological ownership—a thought process that correlates value with physical objects— in the mind of a consumer. If your marketing materials have that kind of impact, you have a strong chance of establishing your brand and products with your audiences. 
 
Print is more memorable.
The typical buyer isn't going to see an ad, click on it and make a purchase right away. Today's buyer's journey reveals consumers' savviness—they evaluate different products, educate themselves through customer reviews and exhaust their options. 

That means you want your ads to make the most of their time in front of a potential customer. Advertising must make a powerful statement to be memorable enough for a consumer to remember when they're ready to purchase. Consider design methods like color psychology to influence perception in your print marketing pieces.
 
Print is effective at complementing digital marketing.
Clearly, physical marketing pieces pack quite the punch, but that doesn't mean it's time to abandon ship on your digital marketing campaigns. In fact, it's time to bring print and digital together.

When marketing in both mediums intersect in a marketing campaign, those touchpoints will have an extra level of effect. Directing your print marketing audience to landing pages or cross-promoting your social media are good places to start. If you're able to create a virtual reality or augmented reality, consider making a print piece doubling as a viewer.

Print and digital don't have to compete—deploy them effectively together and you'll see how mutually beneficial they can be.
 
Print turns off the noise.
In this content-saturated age, print stands out where digital sometimes blurs into the white noise of the internet, apps and video-streaming services.

A standalone print piece's unique ability to unplug its reader from anything digital causes a genuine, distraction-free interaction. Nowadays, that kind of attention is so elusive you can't put a price tag on it.
So the next time you're building a marketing campaign, make print a part of it. Polish an existing distribution list or buy a new one, craft some compelling content (with digital cross-promotion) and design and package it in a head-turning layout and format.